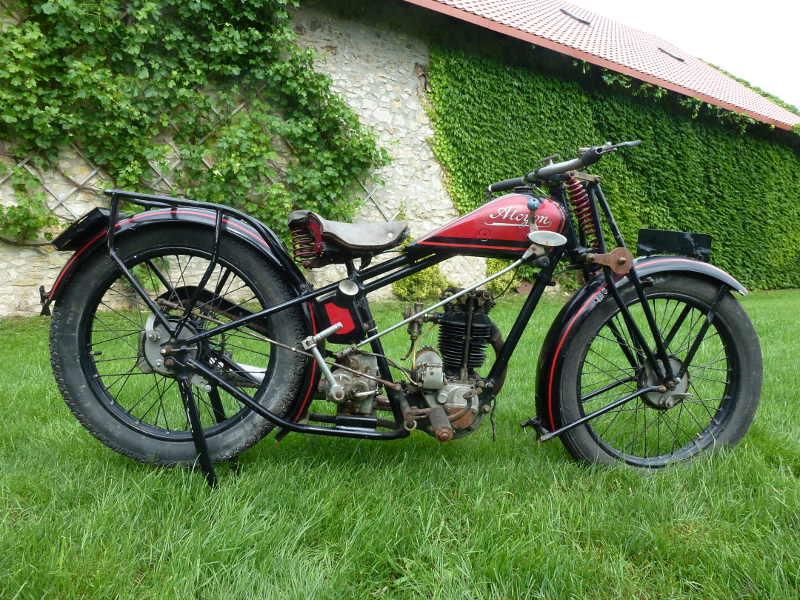 French motorcycle Alcyon from 1933.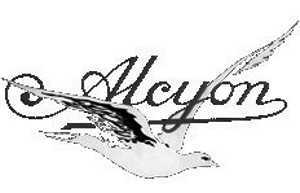 Alcyon. The firm was founded by Edmond Gentil at Neuilly sur Seine in 1902 to manufacture bicycles. That first year some 3,000 were produced, in 1909 this number had grown to 40, 000. In 1904 the factory assembled its first motorcycle. It was equipped with a Swiss Zedel engine 350cc, from the firm of Zurcher & Luthi in St. Aubin.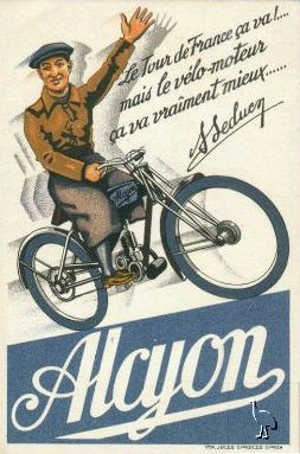 In 1906, the first cars were shown at the Paris Salon. Two models were exhibited: one a two seat light car with single-cylinder 950 cc engine and a larger four seat model with 1.4-litre four-cylinder engine. In the same year the professional Alcyon cycling team was founded, which was active until 1955, including winning the Tour de France 6 times. Also in 1906, Zedel factory was opened in la Ferriere sur Jougne in France and one year later the Swiss factory closed. Soon after that the French Zedel factory was brought under the complete control of Alcyon. Subsequently most Alcyon motorcycles would be equipped with Zedel or Zurcher engines. It appears that only in 1925 JAP engines were used. In 1912 the company moved to Courbevoie, Seine, and in 1914 its name was changed to Automobiles Alcyon.
During WW1 they turned their factory over to repairing airplanes. After the war, their first model was a 1914 cc four-cylinder car. Some examples of this car were tuned and sold by the Lyons agent as Alycon-GLs and performed quite well in competition. However, it did not sell well, so in 1923, Alcyon moved into the production of cyclecars, using 500 cc two-stroke flat-twin engines in a design bought from SIMA-Violet. Later the company manufactured another cyclecar of similar design, this one with a single-cylinder engine. They weren't popular, too, and Alcyon abandoned car production. Other divisions were doing well, though. In 20s several makes were taken over, such as Labor, Thomann, Française Diamant and Olympique.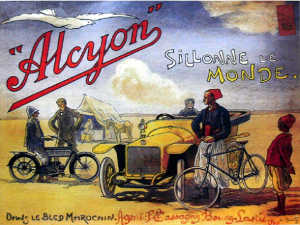 In interwar years Alcyon manufactured many models of medium and lightweight motorcycles, and after 1926, when new regulations were made, they introduced BMA motorcycles (BMA category in France did not require license or registration) In 1929 they developed a range of vehicles to be ridden on the railways. After WW2 mostly light motorcycles, scooters and mopeds were produced till the giant Peugeot took over in 1954.