Ignaz Schwinn was born in Hardheim, Baden, Germany in 1860 and worked on two-wheeled ancestors of the modern bicycle that appeared in 19th century Europe.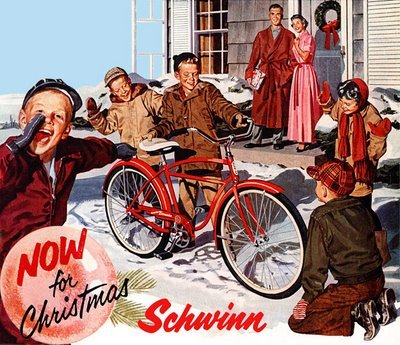 Schwinn emigrated to the United States in 1891, where he found similar difficulties. In 1895, with the financial backing of fellow German American Adolph Frederick William Arnold (a meat packer), he founded Arnold, Schwinn & Company. Schwinn's new company coincided with a sudden bicycle craze in America. Chicago became the center of the American bicycle industry, with thirty factories turning out thousands of bikes every day. Bicycle output in the United States grew to over a million units per year by the turn of the 19th to 20th century.
The bicycle boom was short-lived, as automobiles and motorcycles quickly replaced bikes on American streets. By 1905, bicycle annual sales had fallen to only 25% of that reached in 1900. Many smaller companies were absorbed by larger firms or went bankrupt; in Chicago, only twelve bicycle makers remained in business. Competition became intense, both for parts suppliers and for contracts from the major department stores, which retailed the majority of bicycles produced in those days. Realizing he needed to grow the company, Ignaz Schwinn purchased several smaller bicycle firms, building a modern factory on Chicago's west side to mass-produce bicycles at lower cost. He finalized a purchase of Excelsior Motorcycle Company in 1912 (not to be mistaken with British Excelsior), and in 1917 added the Henderson Company to form Excelsior-Henderson. In an atmosphere of general decline elsewhere in the industry, Schwinn's new motorcycle division thrived, and by 1928 was in third place behind Indian and Harley-Davidson. At the close of the 1920s, the stock market crash decimated the American motorcycle industry, taking Excelsior-Henderson with it. Arnold, Schwinn, & Co. (as it remained until 1967) was on the verge of bankruptcy. With no buyers, Excelsior-Henderson motorcycles were discontinued in 1931.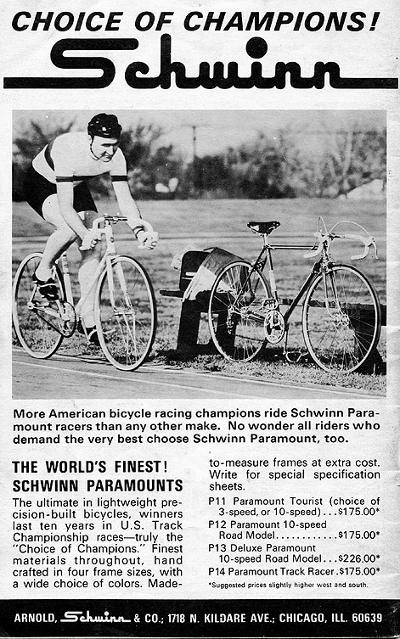 Ignaz' son, Frank W. "F.W." Schwinn, took over day-to-day operations at Schwinn. Putting all company efforts towards bicycles, he succeeded in developing a low-cost model that brought Schwinn recognition as an innovative company, as well as a product that would continue to sell during the inevitable downturns in business cycles. After traveling to Europe to get ideas, F.W. Schwinn returned to Chicago and in 1933 introduced the Schwinn B-10E Motorbike, actually a youth's bicycle designed to imitate a motorcycle. It was marketed under Aerocycle name. Soon Schwinn was also sponsoring a bicycle racing team and developed high-end, professional competitive bicycle: Paramount. On 17 May 1941, Alfred Letourneur was able to beat the motor-paced world speed record on a bicycle, reaching 175 km/h (109 mph) on a Schwinn bicycle, riding behind a car on the Los Angeles freeway.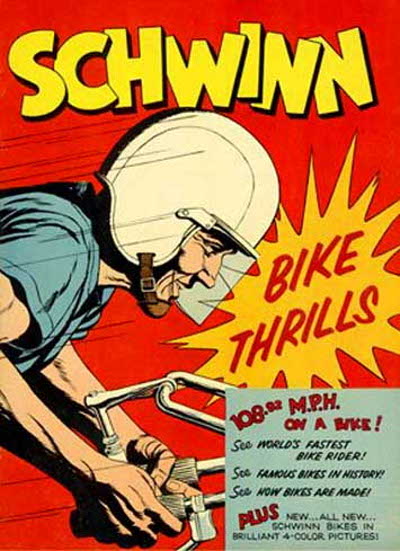 In the 50's Schwinn fought to overtake the bicycle market. They eliminated the practice of rebranding and they began to aggressively cultivate bicycle retailers, persuading them to sell Schwinns as their predominant, if not exclusive brand. At the late 50's they were accused of unfair trade practice and had to change their distribution system. They kept selling bikes – mostly at child and youth market – till the 90's, but finally they were unable to produce bicycles in the U.S. at a competitive cost. Schwinn went into bankruptcy in 1992 and was sold to Pacific Cycle. Still, the Schwinn family tradition is continued; in 1993 Richard Schwinn, great-grandson of Ignaz Schwinn, with business partner Marc Muller, purchased the Schwinn Paramount plant in Waterford, Wisconsin, where Paramounts were built since 1980. They founded Waterford Precision Cycles, which is still in operation. In 2003 they employed 18 workers building lightweight bicycles.