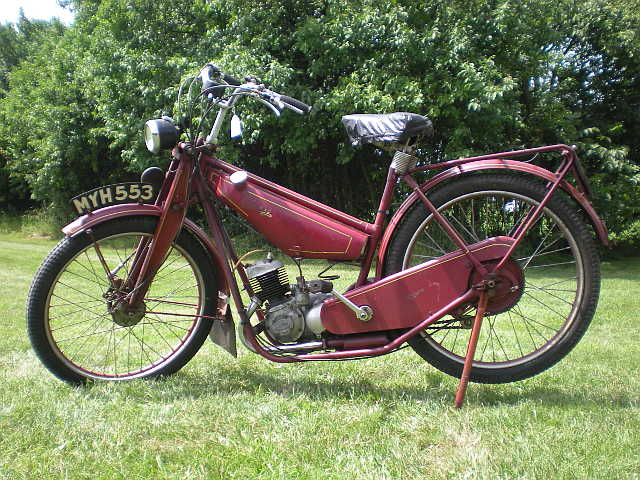 The Bown marque is related to Aeolus, Aberdale and Levi brothers. It was taken over by Aberdale in the 1930's.
Bown history
The original factory in Snow Hill, Birmingham was established in 1911 by William Bown. At first they produced parts for sewing machines and hair clippers. Roller skate wheels appeared in 1876; Aeolus ball bearings in 1879; and in 1914 Bown Ltd. started production of Aeolus motorcycles. The Aeolus brand disappeared in 1916, though the very same machines returned to the market after the Great War under Bown's own badge. Bown continued building motorcycles until 1924. They assembled small Villiers-powered machines of 147cc capacity, and for last two years (1922-1924) they also produced 248cc & 348cc JAP & Blackburne powered machines. After 1924 the business was moved to Chadwell Heath in Essex and turned into bicycle manufacture. Around halfway through the 1930s, the Bown Company was acquired and became absorbed into the Aberdale Cycle Co, based at Bridgeport Road, Edmonton, North London. The head of the company, William A.R. Bown, retained a seat on the board in a technical role, while the new owners - the Levy brothers - managed the commercial side of the business. During World War Two, the Aberdale plant was turned over to the production of war materials, but after war there was a big demad for motorcycles and Aberdale decided to enter this market again with W.A.R. Bown design, the Aberdale autocycle. It was introduced in 1947. The Levi brothers' new South Wales plant in Tonypandy near Llwynpia came to be titled as the Bown Cycle Co Ltd., and up from 1950 the Bown marque was renewed; the Aberdale Autocycle became Bown Auto-Roadster. 98cc and 123cc motorbikes with Villiers engines were built in Wales. In 1952 the Tourist Trophy model was added, fitted with a 122cc Villiers 10D engine and telescopic forks. It raced in the Isle of Man TT. In 1954 motorcycle production stopped, but in 1956-1957 the name returned as it was used for an imported German moped with a 47cc Sachs engine. When production stopped all the tooling and spares were buried on the site under the factory that is now there.
Bown motorcycles were traditionally coloured maroon.