Columbia Model 41 Ladies Safety Bicycle, 1890
Pope Manufacturing Company was started in 1876 in Boston by Albert Pope, Charles Pope, and Edward Pope. At the time of incorporation, Albert Pope held 595 shares, his father Charles held 400 shares, and his cousin Edward held five shares. Their first occupation was selling air pistols and cigarette rolling machines.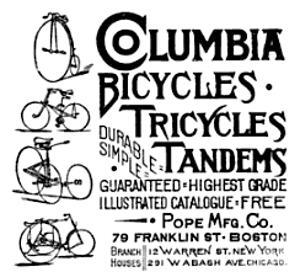 Albert Pope started advertising imported English bicycles for sale in March 1878. He invested about $4,000 in 1878 to import fifty English bicycles. In May 1878, he met with George Fairfield, president of Weed Sewing Machine Company. Pope was inquiring about manufacturing his own brand of bicycles, proposing a contract with Weed to build fifty bicycles at its plant in Hartford, Connecticut on behalf of Pope Manufacturing. Albert Pope had ridden an imported Excelsior Duplex model penny farthing to the meeting, which Fairfield inspected. At that time, sewing machines were selling poorly, so Fairfield accepted the contract.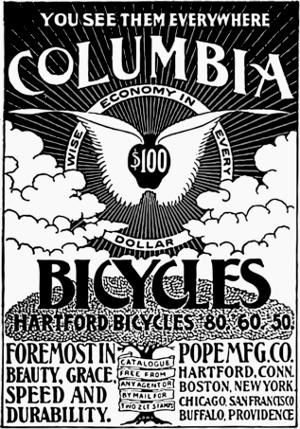 In September 1878, Weed Sewing Machine Company built the last of the fifty bikes under the first contract. Albert Pope chose the brand name Columbia for the first high-wheelers "produced" by Pope Manufacturing. These first machines, copied from the Excelsior Duplex model, were made from seventy-seven parts that were made in-house, and only the rubber tires purchased from a supplier. Pope Manufacturing sold all its bicycles from the first production run. In 1879, production and sales of Excelsior Duplex copies reached 1,000 units. In 1880, George Fairfield introduced design changes and proposed two ordinary Columbia models. Each weighed about forty-one pounds and featured an improved seat-spring and an improved head-adjustment. The Standard Columbia with a forty-eight inch wheel was introduced in 1880 priced at $87.50. The Special Columbia offered "a closed Stanley-style head," a "built-in" ball-bearing assembly, and full nickel-plating for $132.50.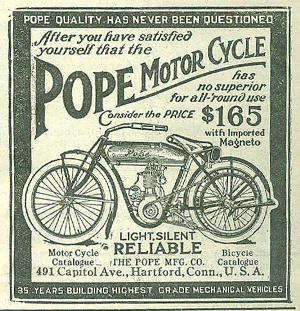 In 1881, Pope gained controlling interest of Weed. After the introduction of the high wheeler, Pope bought Pierre Lallement's original patent for the bicycle, and aggressively bought all other bicycle patents he could find, amassing a fortune by restricting the types of bicycles other American manufacturers could make and charging them royalties. He used the latest technologies in his bicycles—inventions such as ball bearings in all moving parts, and hollow steel tubes for the frame, and he spent a great deal of money promoting bicycle clubs, journals, and races. By the end of the 1890s Pope had bought out most of his competitors in the bicycle industry and became the biggest bicycle manufacturer in U.S. He also manufactured motorcycles and automobiles.
After Pope filed for bankruptcy in 1915, Columbia Manufacturing Inc. continued on to manufacture bicycles in Westfield, Massachusetts. Bicycles under the Columbia brand are available until today.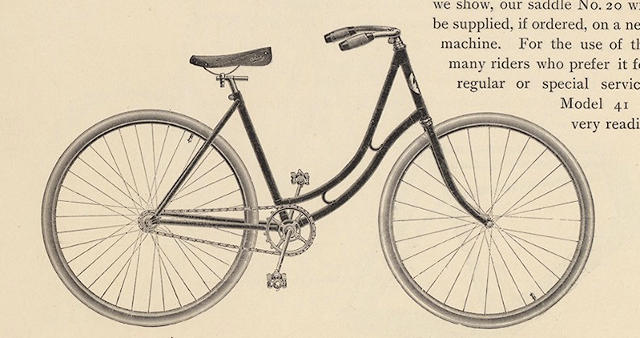 1890 press advert of Columbia Model 41