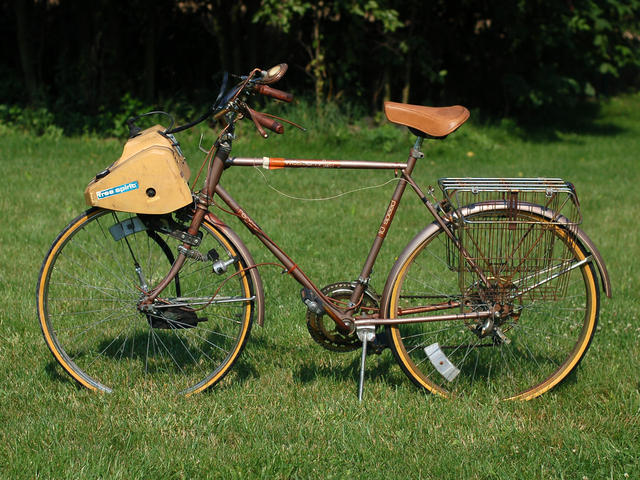 Legendary Western Flyer bicycle fitted with Free Spirit engine. Free Spirit is Tanaka bicycle engine, sold by Sears (an American chain of department stores founded by Richard Warren Sears and Alvah Curtis Roebuck in the late 19th century. Once mail order company, now web-based). Tanaka engines were marketed under the names: Bike Bug, Aqua Bug, Tas Spitz, Sears Free Spirit, and Little Devil. They were very popular from the '60s through the '70s. Sears still keeps some parts to this engine in its web catalogue.
Tanaka company and Free Spirit engine
Tanaka has a long history of manufacturing engines and motor parts. Their specialty is the forming and casting of high quality, industrial rated engine components. First started in 1917, Tanaka produced recreational equipment long before they manufactured power equipment. In the 1940s Tanaka introduced the "BK-3 Featherweight" bicycle motor in Japan, a predecessor to the Bike-Bug model.
Tanaka really came into their own in North America in the 1960's. At this time they manufactured engines, power equipment, and mini-bike components. In the mid 1960's Tanaka produced and supplied small motorcycle and moped engines to a number of companies. In the late 1960's there was an ambitious young sales representative by the name of Bob Thomson, who convinced Simpson Sears (Sears of Canada) to carry the small outboard motor manufactured by Tanaka. In 1975, Sears began to carry a variety of Tanaka's motor products including the Free-Spirit bicycle engine. Shortly thereafter these products were expanded to Sears Roebuck and the Free-Spirit motorizing kit was introduced to the U.S. market.
In the late seventies Tanaka supplied boat motors, small generators, pumps, and of course bicycle motors to Aquabug International, a small distributor out of New York State. The bicycle motors from Aquabug were sold under the "Bike-Bug" name. Tanaka's products were all are based on the same 23cc motor, just with a different housing for whatever the intended purpose. In 1983, Aquabug International was experiencing financial troubles. Tanaka acquired the company, dropped the names "Aquabug" and "bike-Bug", and continued production of the bike motors under their own brand name "Tas Spitz". "Tas" is the name Tanaka had been using on their recreational vehicle motors since the sixties: minibike, motorcycle, and moped engines. Production was stopped in mid- eighties when the market for this products fell out.