Möve bicycle with an auxiliary engine Gnom. Möve bicycles were produced from 1897 by Walter & Co. Gmbh, and from 1946 to 1961 by VEB Möve-Werk Mühlhausen in Mühlhausen/Thüringen.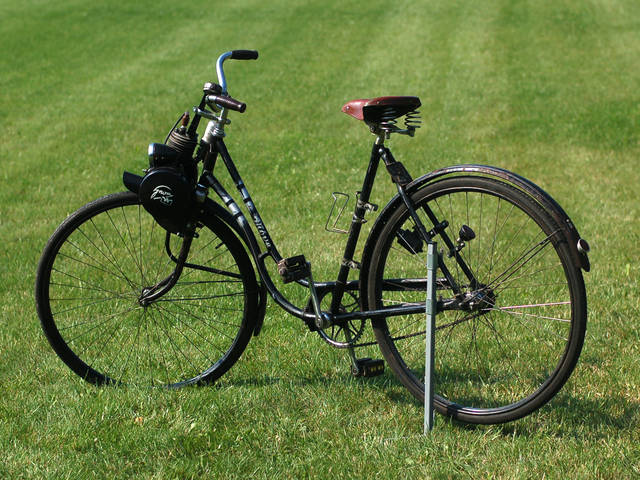 Gustav Walter & Co was founded in 1894 by Walter, Verges and Schultze. Later their plant was known as Thüringer Maschinen- und Fahrradfabrik. They manufactured bicycles and sewing machines. In the 30's a lightweight Möve motorbike with Sachs engine was available, too. After 2nd World War the company was reconstructed and its name was changed to MÖVE-Werk Mühlhausen.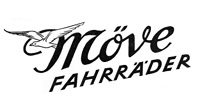 Möve bicycle brand was continued in after war years. In the 50's the company merged with Sattelfabrik Stephan and started to develop production of driver's seats and other vehicle components. The production of whole bicycles was discontinued at the beginning of the 60-s. The company was reconstructed again in the 90-s. It still operates.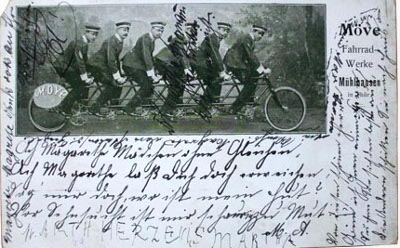 From http://www.moevefahrzeugsitze.de:
1894. Walter & Co. GmbH is founded in Germany.
1897. Thüringische Maschinen- und Fahrradfabrik AG produces modern bicycles with the brand name "Möve".
Until 1945. The company produces bicycles, knitting machines, motorbikes, vehicle parts and machines and equipment for in-house use.
1946. Expropriation and formation of the (GDR) state-owned firm (VEB) MÖVE-Werk Mühlhausen and continuation of bicycle production.
1961. Bicycle production is stopped and vehicle parts production for the motor vehicle industry is expanded.
1966. The MÖVE swing seat is developed as the first driver's seat with central suspension and shock absorbers; series production begins one year later.
1967. In the following years, VEB MÖVE-Werk Mühlhausen develops into an important series supplier for vehicle parts, especially driver's seats and co-driver's seats for utility vehicles.
1990. MÖVE GmbH is founded by the German privatisation agency following reunification and in the following period is split into several companies through hiving off and reprivatisations.
1994. MÖVE-SPORTSCRAFT Fahrzeugsitze GmbH is founded and continues the traditional production of vehicle seats at the site in Mühlhausen.
1998. MÖVE Fahrzeugsitze GmbH is founded by the present day shareholders and managing directors Jochen Schulze and Lutz Bomberg and makes its mark, among other things, as a specialist for driver and driver's assistant seats for the rail vehicle industry.
2007. Extensive reconstruction measures with a total cost of approx. 1 mln € are completed and thus the prerequisites are created to retain the production site in Mühlhausen.