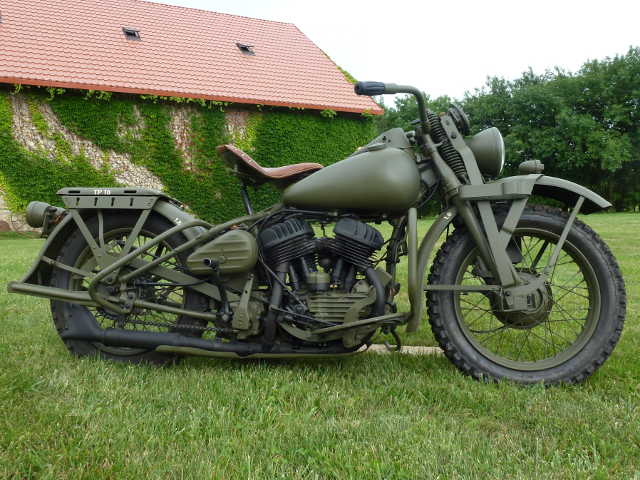 1942 Harley Davidson WLA. During WW2 Harley Davidson produced nearly 90 000 motorcycles for military use. Army demanded short, medium-size bikes with ample ground clearance, so Harley Davidson had to abandon for a time its long, heavy big twins. Some of these traditional bikes were supplied for civilian use, primarily police duty, but very few were bought by the army. Most company's effort during war was put in WLA and WLC models, based on earlier WL civilian model, but adjusted to US Army specifications. WLC was a close WLA variant made for the Canadian Army. (The third Harley Davidson's army model was XA, designed for desert use, but German army lost North Africa before there was any need to use these motorcycles and only about 1000 units were manufactured.) WLA was manufactured from 1940 to 1945. It was powered by 23 HP side valve V-twin 45,3 ci (742 cc) engine. Top speed on low-octane fuel was about 65 mph (105 kph). Unusually, all the WLAs produced after Pearl Harbor, regardless of the actual year, would be given serial numbers indicating 1942 production. Thus, war-time machines would come to be known as 42WLAs. This may have been in recognition of the use of the continued use of the same specification. Many WLAs would be shipped to allies under the Lend-Lease program. The largest recipient was the Soviet Union, which was sold over 30,000 WLAs. Production of the WLA would cease after the war, but would be revived for the Korean War (1949–1952). Most WLAs in western hands after the war would be sold as surplus and "civilianized"; the many motorcycles available at very low cost would lead to the rise of the chopper and other modified motorcycle styles, as well as the surrounding biker culture. Many a young soldier would come home hoping to get a Harley-Davidson like he saw or rode in the service, leading to the post-war popularity of both the motorcycle and the company in general.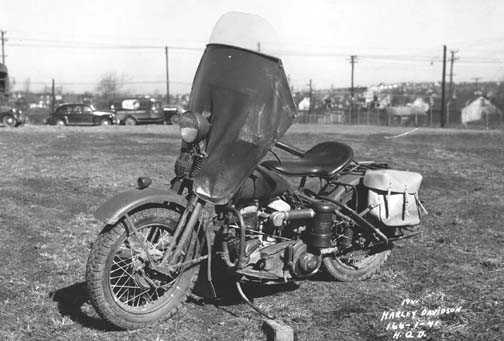 1941 War Department Photo of Harley Davidson WLA
The model number breaks down as follows:
W. The W family of motorcycles. Harley Davidson (except in very early models) gives a letter designation for each model family. The W series at the time was the newest incarnation of the 45 cubic inches (740 cc) flathead motor, and was developed from the earlier R family 1932–1936.
L. "high compression", in the usual HD scheme. The "low compression" W model was only briefly available.
A. Army. The company would also produce a model to the slightly different specifications of the Canadian Army, which would be named the WLC. The WLCs differed from WLAs chiefly in the use of some heavier components, usually Big Twin parts, as well as Canadian blackout lighting.