Jan Henryk Fabjański was born on 21st January, 1919 in Pilica. Here he attended primary school. In 1935 he went to Włodzimierz Wołyński to continue his education in technical school. He graduated in 1938 and started to work for K. Arkuszewski, owner of Pilica estate, palace and a number of industrial ventures. At the consent of his employer, he went to Nisko industrial center (much better known under its later name, Stalowa Wola) to work and to enhance his proficiency. Before war, Arkuszewski was co-owner of the motor-car body manufacture based in Nisko. When WW2 broke out, Fabjański returned to Pilica and opened an ironwork workshop, first in his family house at Żarnowiecka 32, then in a hired building at Żarnowiecka 23. Here he had constructed his motorbike, fitted with Fichtel & Sachs 75cc engine. Most probably the motorbike should be dated 1942.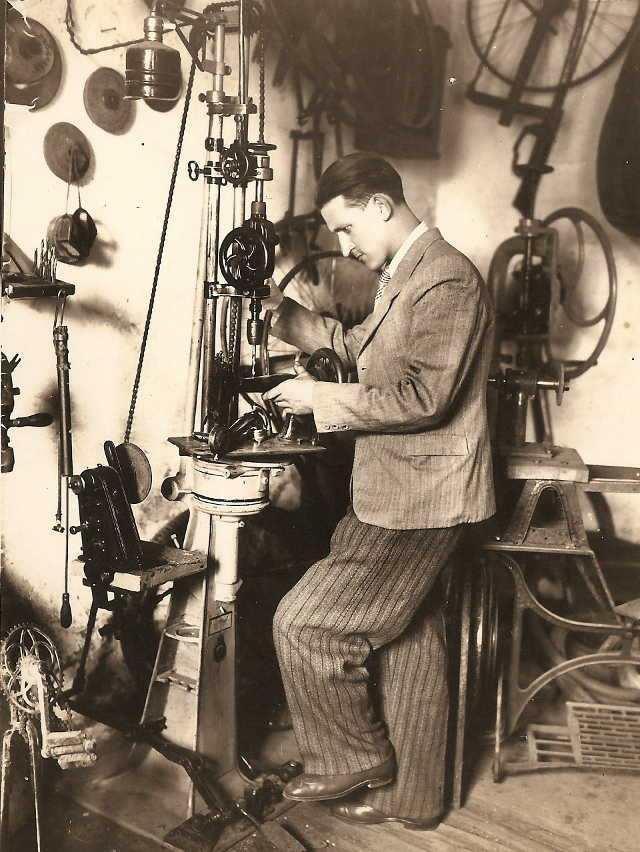 Henryk Fabjanski in his workshop at Żarnowiecka street, photo taken during the war
After war the motorbike was registered in Pilica as 50cc class (for this class driving licence wasn't obligatory). Henryk Fabjanski kept his workshop for a time after the war. Unfortunately in a soviet country running own business was very difficult, so in 1950 he gave up, closed the workshop and started to work in insulation factory in Ogrodzieniec. He was known there for implementing many technical innovations, some of them he patented. He died on 25th May 1989.
Henryk Fabjanski with his family. Photo taken in 60s
The motorbike was initially built for Henryk Fabjanski's wife, Genowefa Fabjanska. Later it was passed to their son, Feliks, who was its owner until early 70s. The vehicle was in everyday use for a long time and some minor changes were made to it to improve the comfort of the ride.