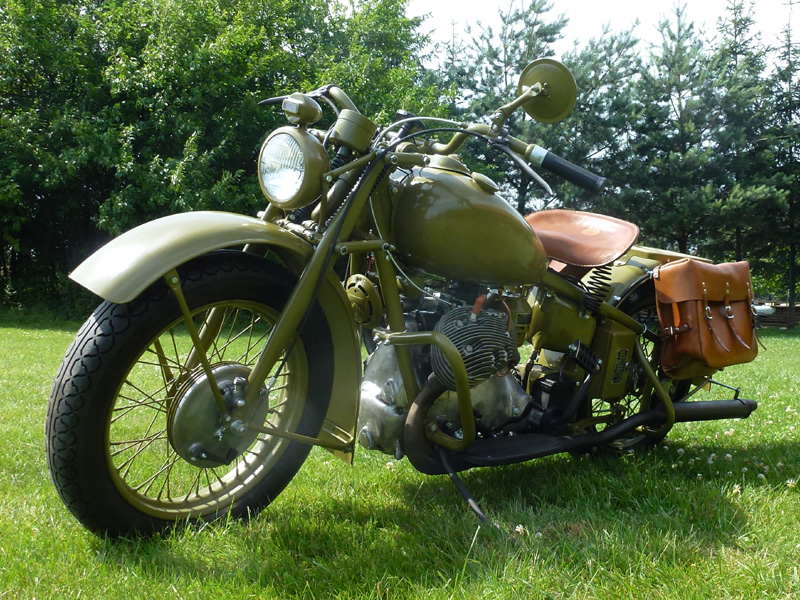 Indian Model 841, military vehicle from 1942. The Indian 841 with a 45 ci (750cc) transverse V-twin engine was designed for desert warfare. During World War II, the US Army requested experimental motorcycle designs suitable for desert fighting and offered Indian $350,000 in exchange for 1,000 shaft-drive, side-valve, twin-cylinder test motorcycles. In response to this request, Indian designed and built the 841 (8 for the new engine design and 41 for the year). A thousand units took part in competetive test program, together with a thousand of Harley-Davidson XA. XA was a winner, but it wasn't rewarded with a production contract either; the North African desert campaign was over and it was determined that the Jeep was more suitable then any motorcycle. Surplus 841s were eventually sold from the corporate warehouse in Springfield.
Compare: Indian 741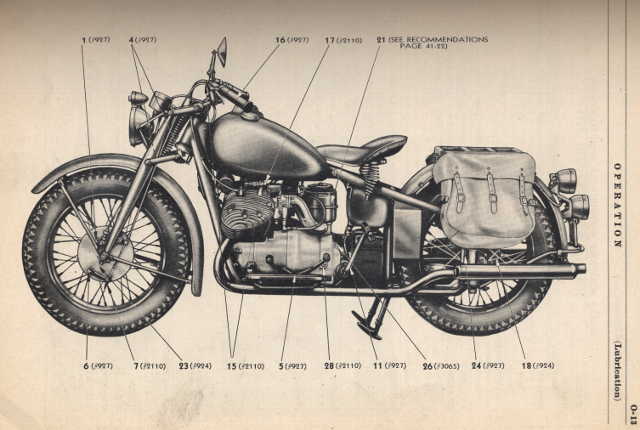 Above: an illustration from original manual. Check Operation and Maintenance Manual section for more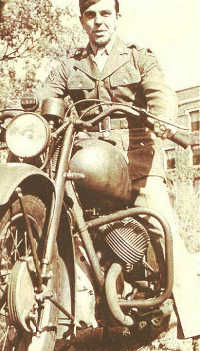 Both Indian 841 and Harley-Davidson XA were inspired by the BMW R71 motorcycle. However, unlike the XA, the 841 was not a copy of the R71. Although its tubular frame, plunger rear suspension, four speed transmission, foot operated shifter, hand operated clutch and shaft drive were similar to the BMW's, the 841 was different from the BMW in many aspects, most noticeably so with its 90-degree longitudinal-crankshaft V-twin engine. The bike had a low compression ratio of 5.1:1, meaning that it could be run on low-octane fuel, crash bars to protect the cylinders, 18-inch wheels, two separate gas tanks for a total of 5 gallons of available fuel and newly designed girder forks for better shock absorption. In order to reduce costs, the new V-twin shared several internal components with the existing Indian Sport Scout, resulting in the same bore and stroke of 2.87 in × 3.50 in (73 mm × 89 mm). Building the 841, Indian pioneered the drivetrain configuration later popularized by Moto Guzzi: longitudinally mounted air-cooled 90-degree V-twin with shaft drive to the rear wheel.