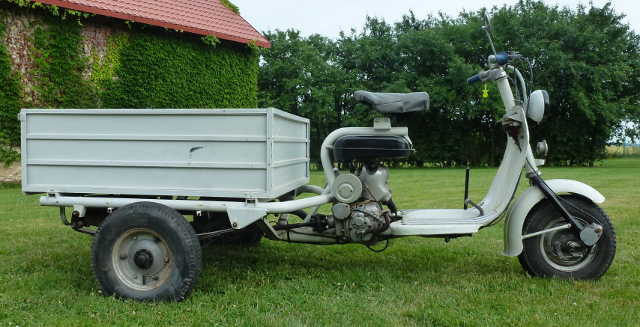 Three-wheel Lambretta FD from 1958. FD model was introduced in December 1952. It was driven by 123 cc engine with Dell Orto carburetor, it had three gears (hand-controlled) and it's top speed was 55 kph. It was designed as ideal cheap transport for small business needs.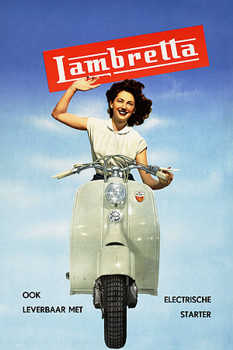 Ferdinando Innocenti started working as an assistant to a blacksmith in 1907, at the age of 16, and two years later he already run his own workshop. At the age of 31 he moved to Rome and entered steel pipes production industry, and at the age of 40 he opened a factory in Lambrate near Milan. During WW2 the Lambrate factory got destroyed, and Innocenti searched for new market to make up for war losses. Inspired by Cushman scooters used by Allies to transport soldiers, he decided to build cheap and simple transport means for post-war Italy. He asked a Roman engineer to design a small, economical motor scooter based roughly on the Cushman Model 32. The task was completed in a few months, but in chaos at the end of the war this first design was lost. Innocenti hired another designer, Pier Luigi Torre, to build a Lambretta prototype. In 1946 Lambretta Model A was ready. And in 1950 the production in Milan factory reached the level of 300 vehicles per day.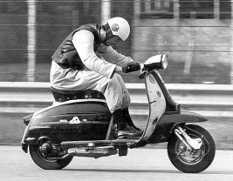 The company was building many types of two- and three-wheel scooters, they also built some special machines for speed tests (to the left). Romolo Ferri managed to achieve 195 kph riding one of them. This was unusual for a scooter powered by 125cc engine. Lambretta scooters were very popular and competed succesfully with Vespa. Until 1956 they were also built in Germany: NSU bought a license. After 1962 scooter sales dimnished and Innocenti's company returned to steel pipes production. They also opened a machine tools division and started to cooperate with car industry.
After Fernando Innocenti died in 1966 his son Luigi run the company, but he wasn't as succesful as his father and in 1975 the company was closed. After that licensed Lambretta scooters were still produced in Spain and in India.