Pre-war Polish motorcycle Perkun with Villiers 98cc engine.
The Warsow Motor Factory "Perkun" joint stock company was created in 1904 to produce industrial and boat engines. The factory was located at Grochowska street 309-317. In 1938 the company was employing 170 workers. In 1936 Perkun was in serious financial trouble. New president and manager, Jan Waśkiewicz, decided to start motorcycle production to solve the crisis. The motorcycles were meant to be fitted with imported engines in the first years of production (Villiers and MAG power units were considered) later the company's original unit should be developed. Unfortunately original Perkun 125 cc engine wasn't ready until WW2 broke out, so replacement never took place.
First Perkun motorcycles were presented in Poznań and Warsaw in May 1938. They were patterned on British Baker and Excelsior bikes. Power unit was British Viliers 98 cc engine: lamps, wheels and chains were delivered by Polish suppliers, and all other elements were manufactured in Perkun factory at Grochowska street. The motorbike was cheap; the factory price was only 700 zloty. Passenger's seat was optional. Vehicles were painted black with golden stripes and logo. At client's request 98cc engine could be replaced with Villiers 125cc engine; bigger unit fitted to standard frame. 100 cc class bikes were more popular, though, as their users didn't have to pay road tax nor they needed driving licence. There was also a three-wheel transport version of Perkun motorcycle (below). Jan Waśkiewicz was preparing to produce motorbikes of 200-250cc and 350 cc class, too; in 1938 he signed a licence agreement with Panther company. The war thwarted this plan. The exact number of pre-war Perkun motorbikes is not known; probably not more then 300 units were made.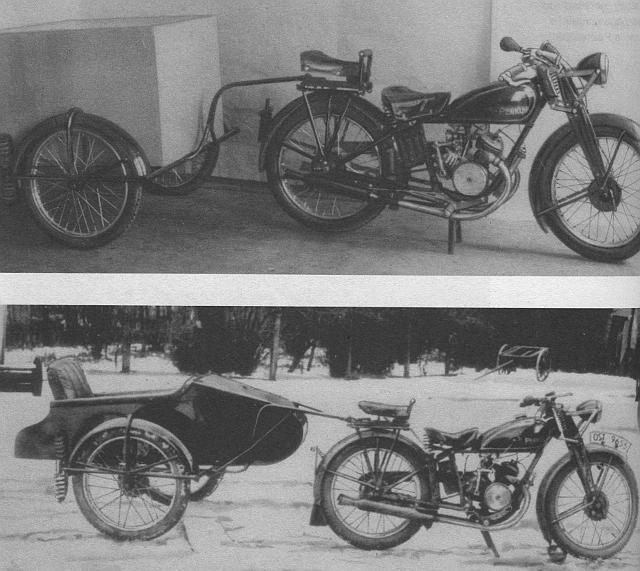 Perkun motorbike with luggage and passenger trailer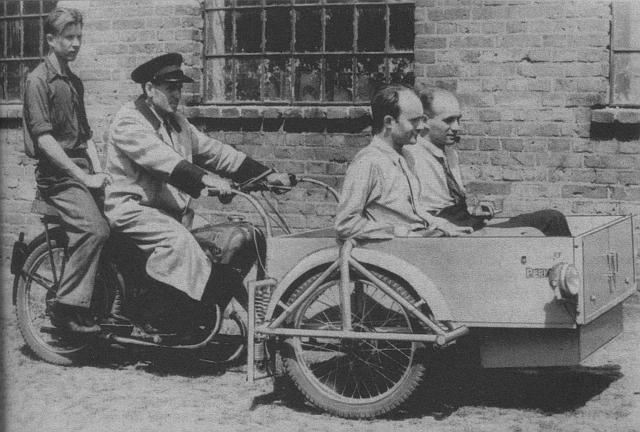 Perkun three-wheel transporter
When the war started, the company lost all vehicles that were assembled and ready for sale; they were taken away from Warsaw and confiscated by the army. When German occupation begun, Perkun staff started to assemble next series of motorbikes, hoping the sales would save the factory. British engines were not available anymore, so they bought engines from Stransky & Stainhagen factory (compare: Tornedo 1938). The engines had defects and Stransky & Stainhagen company refused to award damages, but all these problems turned out to be insignificant after December 1939, when Germans had confiscated all motorbikes and had forbidden riding any benzine-powered vehicles by Polish citiziens. To the end of German occupation Perkun factory was building rickshaws and bicycle trailers.
When Germans were preparing to leave Warsaw, they had stolen most valuable machine tools from Perkun factory. Fire and new communist goverment destroyed all the rest. Perkun company was closed in February 1945.