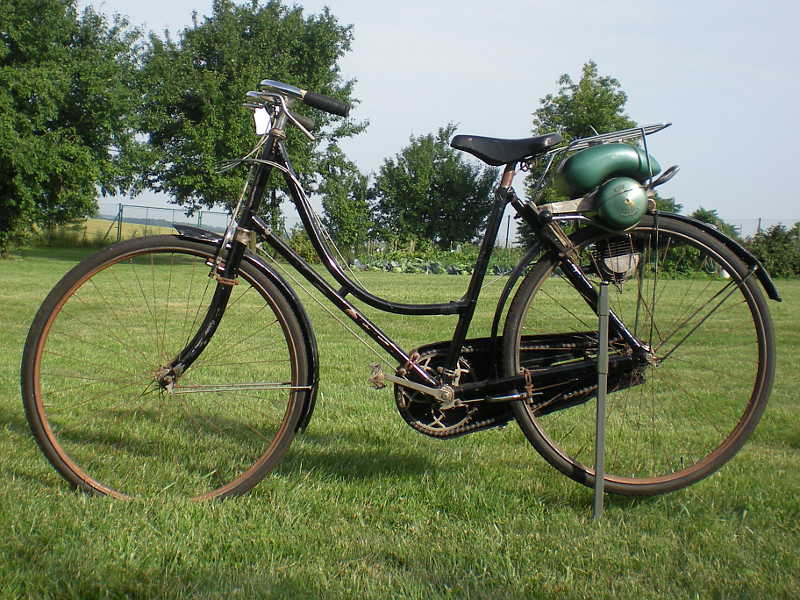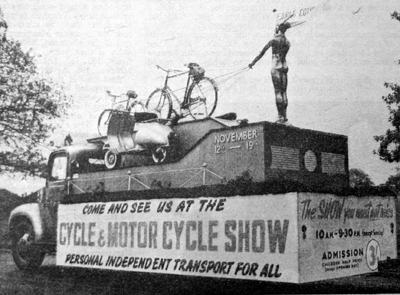 The Power Pak, 49cc engine mounted above the cycle's rear wheel. Manufactured by Sinclair Goddard & Co Ltd of 162 Queensway, Bayswater, London, from 1950 to 1961. To the left: SInclair & Co advertise their appearance at the motor show.
"The cast alloy frame of the Power Pak was clamped onto rubber sleeves around the seat stays of the cycle and there were several different designs of clamping plates to fit different sizes of bicycle. A stay from the bicycle's rear axle was secured to the rear of the Power Pak via a rubber bush. This stay was drilled to suit 26" or 28" wheels and it also had a drilling for a mudguard stay. A lever on the left of the machine controlled the engagement of the roller drive. In the uppermost position the roller was disengaged, the next position was for normal running and below this was the "emergency notch" - described as being "to provide extra pressure in the event of a soft tyre". The kidney shaped fuel tank gave a reserve of fuel which could be used by tipping the unit forward - a lifting handle was provided for this purpose. (...) At the end of the 50's the cyclemotor market was rapidly dwindling but the Power Pak continued to be available until 1961 - one of the last three cyclemotors on the British market (Cyclemaster and Itom being the other two)." from an article by Andrew Pattle
In 1953 Peter Lee-Warner set off to ride around the world on a bicycle powered by a Synchromatic Power Pak. The cycle was fitted with a 2 gallon auxiliary fuel tank in the frame triangle and a tank of drinking water below the front carrier. The Power Pack was doing great during the trip.