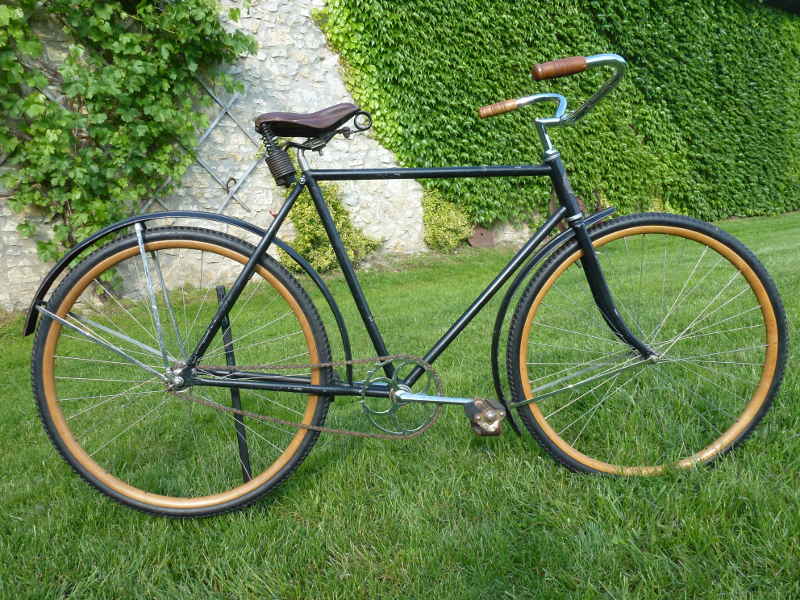 The bicycle was built before WW1 by Miami Cycle and Manufacturing Company in Middletown, Ohio. The company was selling several brands of bicycles, including Racycle, Hudson and Miami. They also produced brakes and bicycle parts for other manufacturers. In 1910 with 1000 employees, the company produced 100,000 bicycles and 10,000 motorcycles. It was one of Middletown's leading industrial concerns.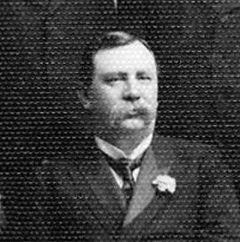 The Miami Cycle and Manufacturing Company was one of the industrial concerns established by Paul J. Sorg, Middletown businessman (photo to the left). It started after he asked the McSherry Works to construct some bicycles that he would give away for a number of coupons that were on tobacco products that he manufactured. McSherry Manufacturing Company was, with Sorg's help. moved from Dayton to Middletown and set up in a building located on Grand Avenue at the railroad tracks. First they manufactured farm machinery; in 1895, on the initiative of Paul j. Sorg, they began the manufacture of bicycles.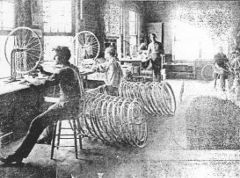 On July 20, 1895 the Miami Cycle and Manufacturing Company was started - new name for a new production line. Racycle was their most popular brand (to the left: wheel assembly room in Miami Cycle factory, 1905). Bicycles led to motorcycles: in 1910 Joseph Merkel, who had been producing his motorcycle in Pottstown, Pennsylvania, moved to Middletown and joined the staff of the Miami Cycle and Manufacturing Company. In 1911 the Miami Cycle Manufacturing Company purchased Flying Merkel, and production was completely moved to Middletown Ohio.

Flying Merkel advert (click to enlarge)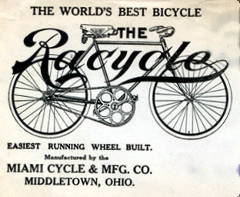 During World War I the company was engaged in military work. When the war was finished, they still did run bicycle production in a factory on Grand Avenue (Flying Merkel motorcycle production was stopped around 1917). This branch was not so profitable any more, though. In 20s, the automobile replaced the bicycle as the prime means of transportation. When the local Manchester Hotel was being built, a group of businessmen discovered there was no assembly line for making bathroom cabinets. Thinking this might be a profitable enterprise for the old cycle works, the group began development of bathroom and kitchen fixtures, using steel instead of wood. On November 17, 1923, the Miami Cabinet Company came into being. The company relocated to Monroe and the old factory building was used for warehousing. It burned down in March 1972.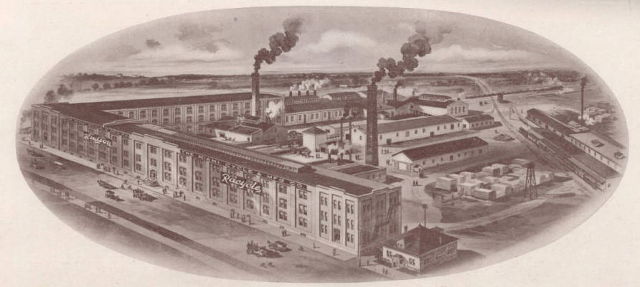 Miami Cycle and Mfg. Co in 1908. All documents by courtesy of www.middletownlibrary