Shaw motorized bike. Shaw Manufacturing Company of Galesburg, USA was a successful manufacturer of light auxiliary engines in the early days of the 20th century. From 1905 he offered engine kits for bicycles and complete motorized bicycles, like the one shown below (the construction was ready in 1903 and some engines could be sold before 1905, but it was in 1905 when engine was patented and mass production started). From 1905 to 1917 about 13 000 of them were made.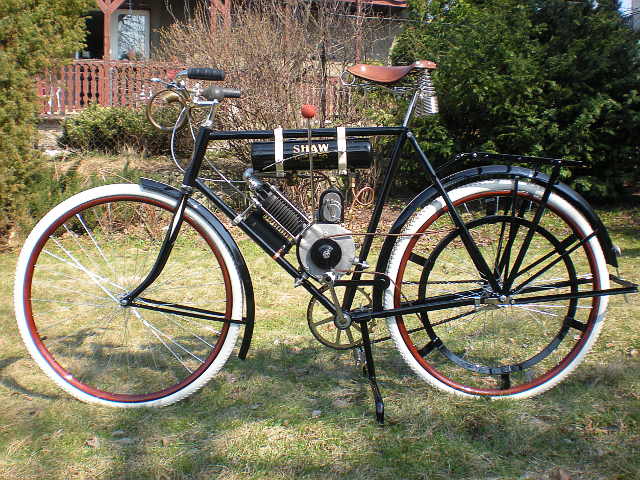 Both bicycle and engine are fully restored and in working order now. More details about renovation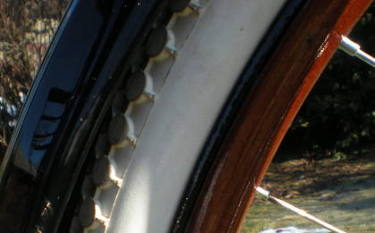 This wooden wheels bicycle probably comes from early years of company's production. Shaw motor attachments and motorized bikes were widely advertised and sold throughout the country for 12 years, to 1917. The Shaw 240cc single cylinder engine was fastened to the bicycle frame, with a belt drive to the rear wheel.

History of Shaw Manufacturing Company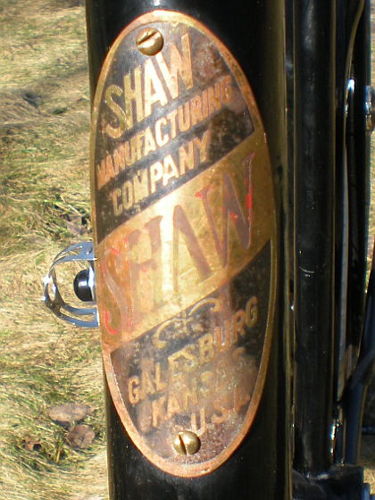 The firm was founded in 1903 by Stanley W. Shaw (1881-1982) from Galesburg (more details in an article by Robert J. Varsolona). From 1905 to 1917 Shaw built motor attachments. In 1911 he took over the Kokomo motorcycle factory from Kokomo, Indiana. This company had produced a 300cc side valve machine which was considered to be underpowered. Shaw transferred the production to Galesburg and enlarged the engine capacity to ca. 400 cc to overcome the said lack of power. Between 1912 and 1920 about 240 of these Kokomo/Shaw motorcycles were sold. After 1920 Shaw started the production of tractor appliances: he was manufacturing Model T Ford tractor attachments, small farm tractors and Shaw Du-All garden tractor. During World War II the company built aircraft and machine gun parts. After war they manufactured lawn mowers and garden tractors. In 1962 business was sold to the John Deere company, tractors and farm equipment manufacturer.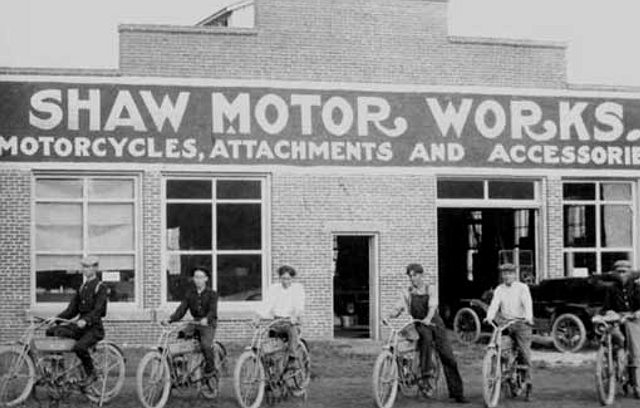 First factory was placed next to Stanley Shaw's house in Galesburg (from shawsters.camp8.org)
"In the nineteenth century, Stanley Shaw first invented his own steam engine. At the dawn of the motoring age Stanley Shaw invented his own gas engine. By 1903 the "Shaw Manufacturing Co." of Galesburg, Kansas advertised an engine kit for motorizing a bicycle in Popular Mechanics magazine for $90. The engine was 241 cc with dry cell battery ignition and a slip belt drive. Advertised cruising speed was 20 mph (32 km/h), with a maximum speed of 30 mph (48 km/h). By 1905 Shaw was mass producing his engines to convert bicycles to motorcycles. To further increase sales, Shaw began selling plans to build a car to use his engine. It was a very primitive car, a buckboard with a motor, but a real car. (...) Ads claim 25 mph (40 km/h) with the original Shaw engine. Spindly, spidery, the Shawmobile helped put America on wheels far cheaper than a Ford of the day..." (from Wikipedia)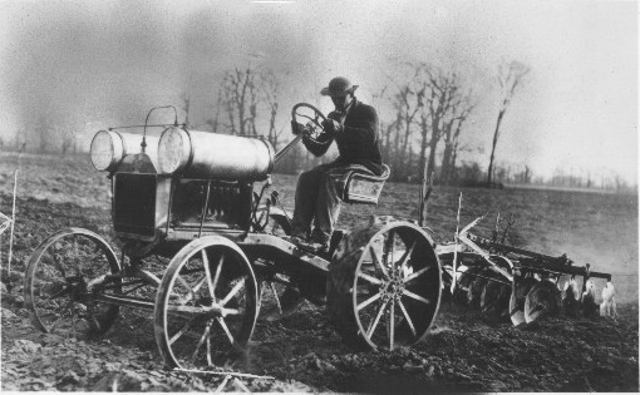 Shaw Tractorized Ford, a tractor based on Ford T