Siambretta 125cc from 1953, a Lambretta motor scooter produced under license by Siam Di Tella company in Argentina (Siam is an acronym from Sección Industrial Amasadoras Mecánicas).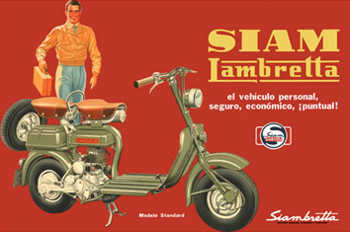 Founded in 1911 by Torcuato di Tella, an Italian Argentine immigrant, the firm began as a manufacturer of bread making machines, which came into great demand by local bakeries in the 1920s. Di Tella's friendship with Enrique Mosconi, the director of the newly-established state oil concern YPF, helped result in a contract to build their fuel dispensers and Siam di Tella's growth into a leading Argentine manufacturer.
A military coup in 1930 resulted in the contract's rescission, prompting di Tella to convert his new factory south of Buenos Aires into the manufacture of industrial machinery and home appliances (particularly refrigerators), becoming the largest, domestically-based industrial conglomerate in Latin America. The firm established a facility making commercial freezers under license from Westinghouse in 1935, and their trademark household refrigerator unit in 1948. Advertised as la reina del frío ("The Queen of Cold"), these became popular among Argentine consumers and their production expanded from 11,000 units annually in 1948 to 70,000 by 1958. Expanding into an array of big ticket appliances, as well as their motorcycle and motor vehicle ventures, Siam diTella expanded to 13 manufacturing facilities employing 9,000 by the 1960s.
The founder died in 1948 and his two sons, Torcuato and Guido (both engineers), took control of Siam. They secured a licensing agreement with Italian motor scooter maker Lambretta. This initially consisted of a deal to import 2,000 model A's that had failed to sell in Italy, 75 of which were donated to President Juan Perón's youth group UES. Contemporary LD models were soon added to the range and in the early 1960s SIAM began producing an Li/TV Series 2 variant. Some of these were exported to Chile and Uruguay. Siambretta production ceased by 1970 with around 200,000 units having been sold.
The company was overtaken by Argentina's government in 70s, and in 80s Siam factories were sold, as local production couldn't compete with cheap imported wares.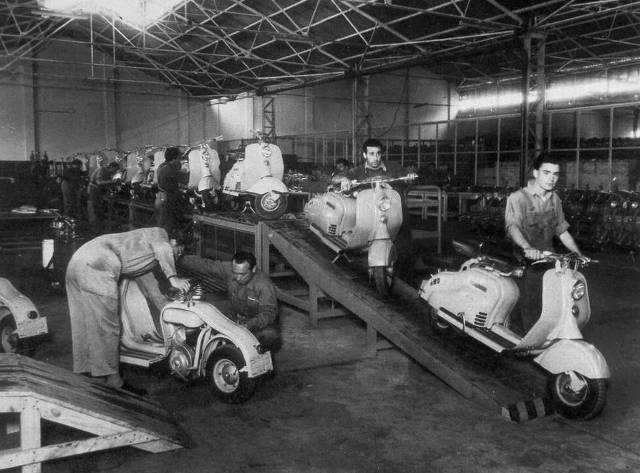 Siambretta assembly line