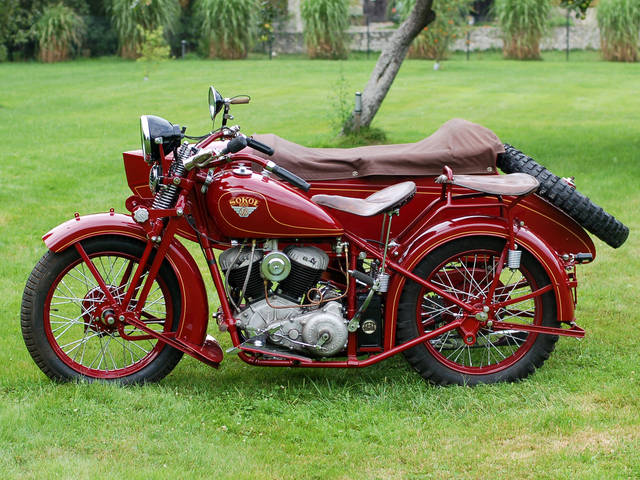 Sokół 1000 (or M 111) from 1937. The motorcycle was built from 1933 to 1939. It was fitted with two-cylinder, four-stroke SV twin engine. Engine displacement: 995,4cc, power output: 18 HP at 3000 rpm (maximum power output 20-22 HP at 4000 rpm). Weight: 270 kg, with a sidecar 375 kg. Standard working load was 280 kg. Top speed: 100 km/h. Three speed manual gearbox. Average fuel usage: 7 - 7,5 l per 100 km.
Sokół was a brand of motorcycles designed and manufactured in 1929-1939 by CWS, Centralne Warsztaty Samochodowe (Central Automotive Workshops) after its takeover by the PZInż state company in 1928. In 1931 PZInż construction team, lead by Zygmunt Okołów, started to design a heavy military motorcycle, CWS M 111. Other members of the team were: Mordasewicz, Bidziński, Poraziński, Raczek and Gebler. The number "111" in the motorcycle name is a mistake of the worker, who painted the sign on prototype machine; the motorcycle was initially named M III ("model no. 3"). Prototypes were built in 1932, and mass production started in 1933. M 111 was a heavy machine designed for military use; Polish army in this time wanted substantial vehicles, which could be operated by very unexperienced riders. A number of M111motorycles was also bought by Polish Mail company. For individual users the motorcycle was too expensive. In spite of the fact that most M 111 went to the army, they were typically painted black or dark green with golden stripes. Later they were sometimes covered with special masking paint. Most M 111 motorycles were used with sidecars.
In 1936, after Sokół 600 RT was introduced, the name of M 111 model was changed to Sokól 1000 ("Sokół" is a Polish word for a falcon). Without many changes the motorcycle was produced till September 1939, when the war broke out. The exact production number is not known, Polish army in 1939 probably owned about 1600 units.