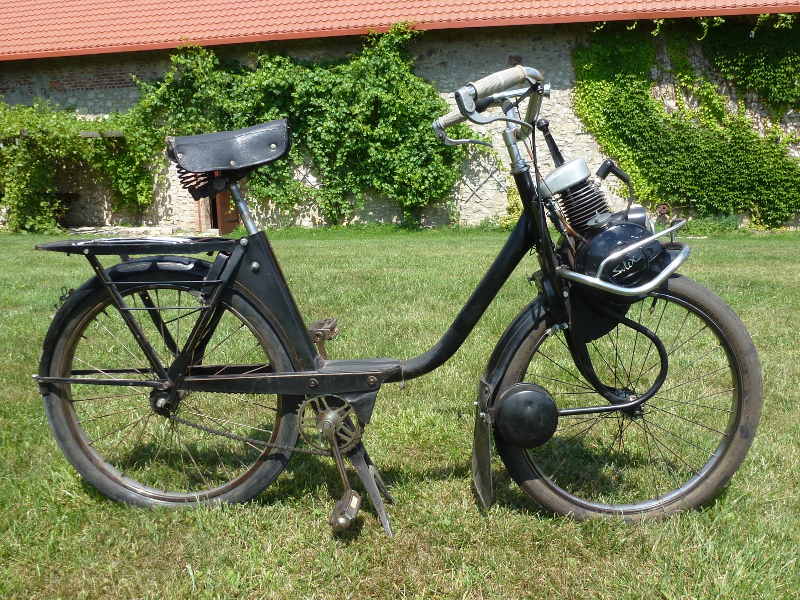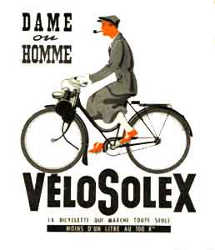 The Solex company was founded in 1905 by Marcel Mennesson and Maurice Goudard, in order to manufacture vehicle radiators. These were fitted to several makes of early cars including Delauney-Belleville and buses of the Paris General Omnibus company. After World War I the radiator business went into decline and the company bought the rights to the carburettor patents of Jouffret and Renée and named them Solex after their business. Solex carburetors were until the mid 1980s used on many European cars (Volkswagen, Fiat, Alfa Romeo, Audi, Ford, BMW, Peugeot, Opel and others). The first prototype of a VeloSolex was created in 1941. In this time Solex used regular bicycle frame such as those manufactured under the Alcyon brand. The bicycles were powered by a 45 cc engine, developed by Solex.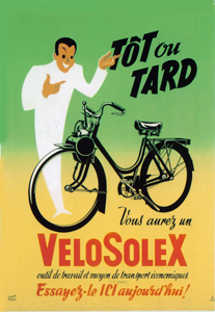 The mass production of the new engine started in April 1946, and its official debut was the presentation at 33rd Auto And Cycle Exposition at the Grand-Palais in Paris, in October 1946. The complete vehicle – bicycle and Solex engine - was marketed under VeloSolex name. In 1948 it attained a production of 25 000 units, its price being 19,418 francs. One can recognize the 1948 version by the white band on the rear fender and the toolbox at the rear of the luggage rack. By 1950, more then 100 000 vehicles were sold. In this time Velosolex manufacturing licenses had been issued to Holland (Van der Heem N.V. Co in Hague), Switzerland (Hispano-Suiza Co. in Geneva) and Italy (SIFAC in Turin). From 1951 Velosolex was also manufactured in Great Britain.
In 1953 the engine was enlarged, and since this time its capacity was 49 cc. Until 1959, there was no clutch. The engine was mounted above the front wheel. Power was delivered via a small ceramic roller that rotates directly on the front wheel by friction to the tire. The production in France was continued to 1988. Then it was moved to China, but in 2001 it returned to France again. In 2004 the Solex cycle mark was bought by French group CIBLE (Solex carburator division was taken over by Matra in 1973, and later it was passed to Magneti-Marelli, Renault and Motobécane). Today the Velosolex is still manufactured in France. The trademark VELOSOLEX is the property of Velosolex America, LLC which markets the Velosolex motorized bicycle worldwide, while SOLEX brand is owned by Magneti-Marelli now.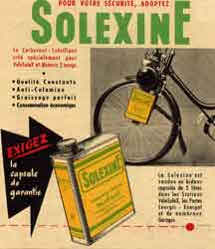 As early as 1947, Solex asked the BP petroleum company to research a special mixture for the Velosolex 45cc for maximum optimization of the motor. In this time the BP service stations already sold the "Energic" and "Energol" mixtures for other motorbikes. Solexine was sold in filled and sealed 2 liter yellow cans (the yellow color lasted until 1957) and also at the pump in the BP service stations.