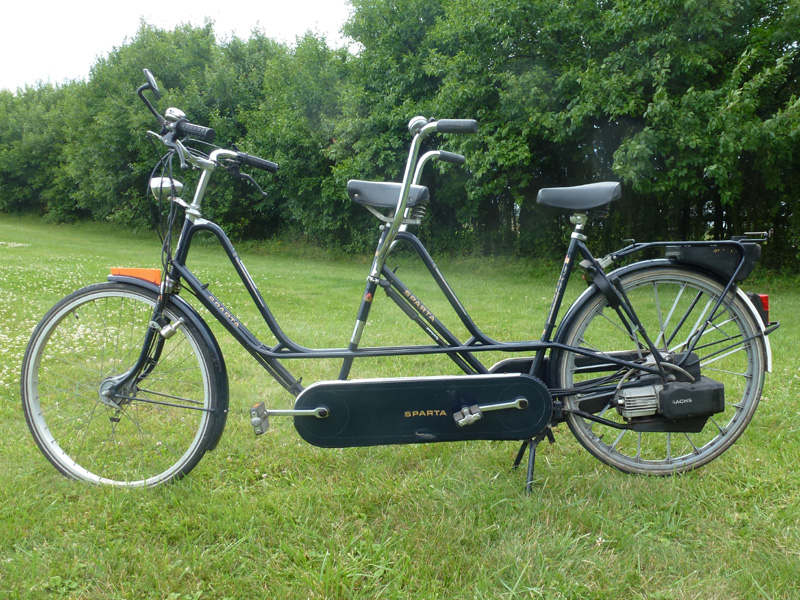 Contemporary tandem bicycle from Holland.
Sparta brand origins are dated back to 1917. In this year Schakel, Verbeek and Krijgsman founded a company in Apeldoorn to sell bicycles and bicycle components. The company was known under the name "Verbeek & Schakel". In the same year they bought Reuvers company in Nijmegen together with brands: Sparta, Roman and Banner. In 1918 Krijgsman retired, and Leedert Schakel became the company's leader. Five years later he became the company's sole owner. The first Sparta bicycle was built in 1920, and in 1927 Schakel built a factory in Apeldoorn to assembly bicycles, milk carts and transport tricycles.
In 30s the company, named "Sparta Rijwielen- en Motorenfabriek, Firma Verbeek & Schakel" started to build motorized bicycles. Their first vehicle was fitted with Sachs 78cc engine. It was marketed in 1931. Soon they were able to offer 15 types of touristic and utility bikes, some of them with auxiliary engines. They also produced light motorcycles with Villiers, Sachs and JLO engines 120 and 125 cc. Their prewar vehicles were truly light ones: below 60 kg, in order to avoid road tax.
After WW2 Sparta had to rebuild their factory. In 1945 they started bicycle production again, first in small numbers, due to material shortages. To 1958 they were manufacturing bicycles, motorcycles and mopeds with their own engines. Later they were using mostly Sachs power units. In late 90s they started to experiment with electric bikes and merged with Accell Group. The Sparta brand is continued until today, and bicycles with electric engines are their best selling product.