"Tornedo" is the name of Bydgoska Fabryka Rowerów i Motocykli (Bydgoszcz Bicycle and Motorcycle Works) owned by Wilhelm Tornow, Polish citizen of German nationality. The factory, established in 1904, was the biggest metal works in the town. The main focus of "Tornedo" company was bicycle and bicycle frame manufacturing. In 1936 the overall production was: 5500 bicycles and 35000 frames. In 1937 "Tornedo" started to develop the construction of their own light motorcycle. At first they meant to use an export version of Fichtel & Sach engine 125cc, with power output 3HP at 3600 rpm. After several first units were made, the power unit was changed to Polish SS-3-MR engine (see Tornedo 1938). It was produced by Warsaw-based company of Artur Steinhagen and Henryk Stránský. They manufactured big stationary engines (up to 30HP) and smaller one-cylinder 7HP power units for motorbikes, plane engine parts and precise tools. Tornedo motorbike had a steel pipe frame, front fork amortised with a spring, chain drive, two gears and pedal start. It weighted about 60 kg. Top speed was about 60 kph, and fuel consumption - 2.5 ltr/100 km. The power output of SS-3-MR engine was 2.5 HP at 3500 rpm, maximum output was 3.25 HP at 4200 rpm. The vehicle was designed for one person only, it was not adjusted to riding with a passenger. The new motorbike debuted on 3th July 1938 in a great style; it came first during the race organized in Bydgoszcz, when competing with Sachs, Puch and Villiers machines. The mass production was started in the end of 1938. After the outbreak of WW2 Tornow's factory was manufacturing bicycles for German occupants and the motorcycle production was almost completely abandoned. Only few units with Sachs 98cc engines were built in this time.
Wilhelm Tornow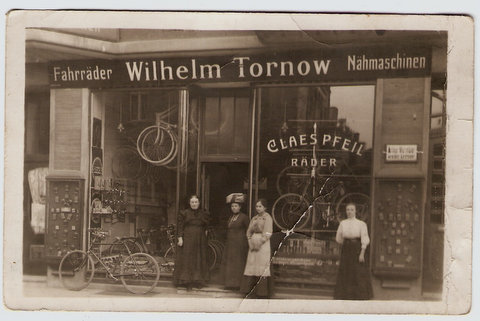 Tornow's daughters in front of the shop at Dworcowa street in Bydgoszcz
Before the war ended, Wilhelm Tornow, his wife and their 8 children moved to Germany. Wilhelm Tornow died in the beginning of 1940.
Photos from Virtual Museum of Bydgoszcz Bicycle and Motorcycle Industry at www.auto-nostalgia.pl