Triumph K200 built by Triumph-Werke Nürnberg AG, the company established in Nuremberg in 1896 as a subsidiary of Triumph Engineering Co. Ltd. The English and German factories diverged in 1913.
The company continued to manufacture motorcycles as TWN (Triumph Werke Nürnberg) until 1957. In 1956 Max Grunding took over the Nuremberg company, merged it with his Adler motorcycle and typewriter business and terminated motorcycle production under the Triumph and TWN names.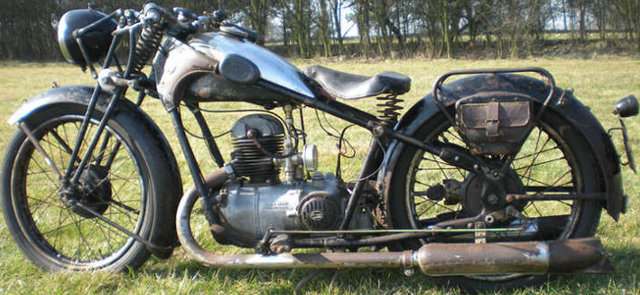 Triumph K200 was built from 1934 to 1937. Two-stroke single cylinder engine 197 cc, bore/stroke 59 mm x 72 mm. Maximum power: 6 HP, weight: 130 kg, top speed: 44 mph (about 70kph). Cardan shaft drive, 3 gears. See: another example of Triumph K200.