Zédel was a Swiss automobile manufacturer established in 1901 by Ernest Zürcher and Herman Lüthi. The name of the company was created by combining the first letters of the founders' names, "Z" and "L".
The Zedel Motor Company, also known as Automobiles Zedel, was first an outfit that built engines for bikes, motorcycles and three wheelers around the turn of the 20th century. They were located in St Aubin, Switzerland on the southwestern end of Neuchatel Lake.
In 1902 they moved their headquarters into Pontarlier, France. This was done in an effort to limit import duties since the majority of their customers were french companies. In 1906 they started building their first motorcars. Automobiles Zedel was a well-known make for the time.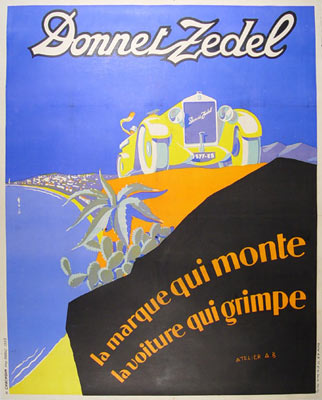 After the war, Jerome Donnet (of Donnet-Denhaut, a company that built patrol boat planes during the war) purchased Automobiles Zedel and changed the name to Donnet-Zedel. They continued to make the cars from the same factory in Pontarlier, France until 1928. In 1928, the factory in Pontarlier was sold and the Zedel name was dropped. A new factory was opened in Nanterre, France, just west of Paris. During the late 20's and early 30's, they expanded there range of vehicles and even added some 6 cylinder engines. Yet, as so many other companies, the shrinking of the economy during the depression was something that they could not recover from. The company was sold to Simca in 1935.