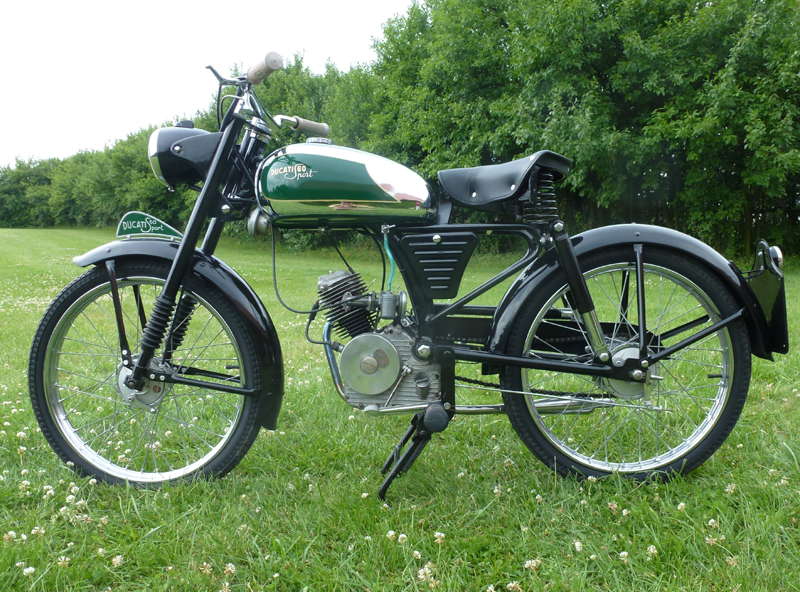 Ducati sport motorcycle 60cc from 50s.
In 1926 Antonio Cavalieri Ducati and his three sons, Adriano, Marcello, and Bruno Cavalieri Ducati; founded Società Scientifica Radio Brevetti Ducati in Bologna to produce vacuum tubes, condensers and other radio components. In 1935 they built a new factory in the Borgo Panigale area of the city. Production was maintained during World War II, despite the Ducati factory being a repeated target of Allied bombing.
Meanwhile, at the small Turinese firm SIATA (Societa Italiana per Applicazioni Tecniche Auto-Aviatorie), Aldo Farinelli began developing a small pushrod engine for mounting on bicycles. Barely a month after the official liberation of Italy in 1944, SIATA announced its intention to sell this engine, called the "Cucciolo". Ducati, in collaboration with SIATA, launched production of Cucciolo engines. In 1950 Ducati offered its Cucciolo-based motorcycle. Their first model was no more then a bicycle with an attached engine, but soon they were able to introduce a well designed little 60 cc bike. Ducati dropped the Cucciolo name, replacing it with "55M" or "65TL". In 1952 they introduced a four-stroke motor scooter named Cruiser and 65cc sport model, which replaced Ducati 60 Sport.
In 1953, management split the company into two separate entities, Ducati Meccanica and Ducati Elettronica. Ducati Meccanica was a very succesful sport motorcycle manufacturer in 60s and 70s (see: 1955 Ducati Meccanica and Ducati 900). The brand is continued until today.