Sachs was famous motorcycle manufacturer and the largest manufacturer of two stroke motorcycle engines in Germany during the fifties, sixties and seventies. This is 60 cc Fichtel and Sachs engine from 1938, integrated in the rear wheel hub. See also: FIchtel & Sachs - Narcisse tandem, Victoria with Sach engine and Saxonette - Meister.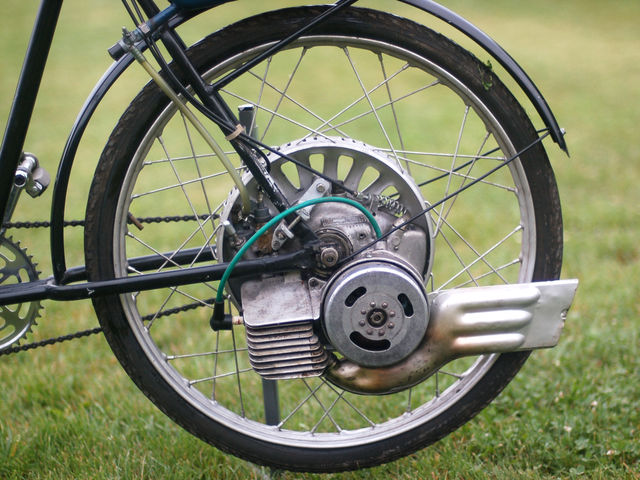 "Although cycle-attachment engines had been manufactured pre-war, the Saxonette 'help-motor' was a very refined version. As it was put on the market in 1938 it was essentially the first of what we could describe as the post-war style of cyclemotor. The rear-mounted engine was built around the Sachs Torpedo hub, similar to the BSA Winged Wheel. This revolutionary new design was presented to the public at the Berlin Motor Show in 1937. The factory supplied the engine already fitted to the wheel to various bicycle manufacturers, and the first machines went on sale in July 1938." (from herculesmuseum.wordpress.com)

Still, there were some problems with a new engine, so in spite of its modern design Saxonette didn't sell too well. Some details of construction needed to be reworked, not all bicycle frames were suitable for it, too. Unfortunately the war interrupted its development. Production stopped in 1939. After war DKW engineers copied and refined Saxonette engine to develope Radmeister project; and Radmeister became a starting point for British Cyclemaster engine.