1925 Ner-A-Car motorcycle with 4-stroke engine, produced in Kingston-on-Thames, UK. (2-stroke Neracar motorcycles were produced in USA, in New York state. See: Neracar 1921.)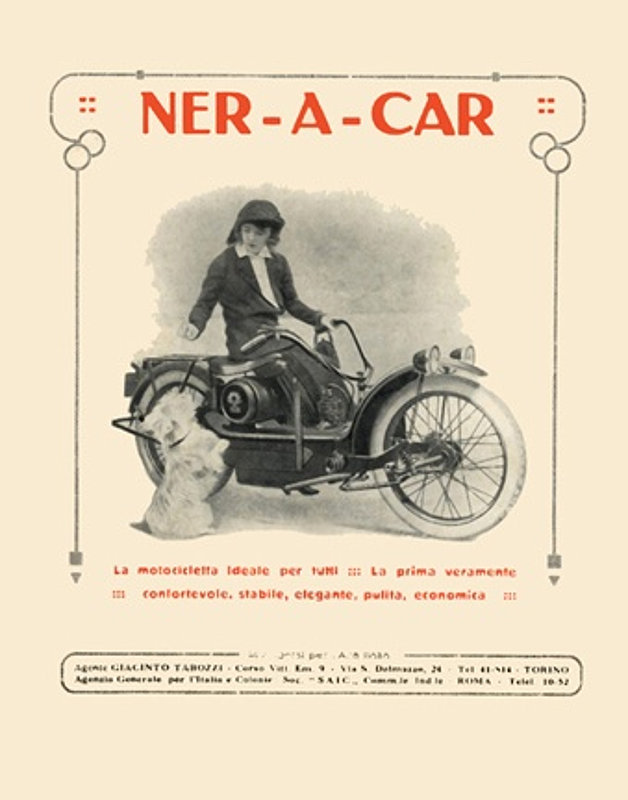 British licencee Sheffield-Simplex began production of Ner-A-Cars in 1921. First they had used original American design with the 221 cc two-stroke engine and the friction drive transmission. In 1923 the engine was enlarged to 285 cc, with a 70 mm bore and a 74 mm stroke. Sheffield-Simplex developed a new version with a Blackburne four-stroke side-valve engine, displacing 348 cc with a 71 mm bore and an 88 mm stroke, driving through a three-speed Sturmey-Archer manual transmission. This version was introduced in 1925 as the Model C, while the earlier two-stroke friction-drive model was continued as the Model B. Sports model C, with an overhead-valve version of the Model C engine, was also offered.
A de-luxe model was introduced in 1926 with swingarm rear suspension controlled by quarter-elliptic leaf springs, a bucket seat with air cushions, and a fairing with an adjustable Triplex windshield and an instrument panel. A countershaft concentric with the swingarm pivot was driven by a chain from the transmission and drove the rear wheel. The addition of rear suspension increased the wheelbase of the de-luxe model to 68.5 inches (1,740 mm)
Production of the Ner-A-Car at Sheffield-Simplex ended in the autumn of 1926.