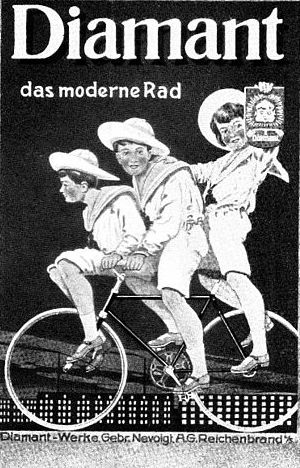 Diamant is a bicycle brand based in Chemnitz, Germany and originally manufactured by Elite-Diamantwerk (Elite Diamond Works), which was founded in 1882 by brothers Frederick and William Nevoigt, in order to produce knitting machines. They manufactured their first bicycle not long after the company was established, but the mass production started in 1895. The advertisement to the left is from 1913. In this time the company employed about 1000 workers, and bicycle manufacturing was their main activity.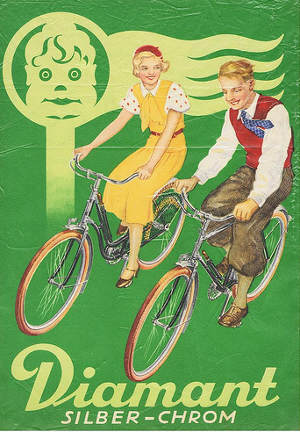 After WW2 the factory was overtaken by new communist state, DDR. It continued production under the name Volkseigene Betrieb Fahrradwerke Elite Diamant. Diamant bicycles were very popular in DDR; it was actually the only brand available. After German reunification Elite Diamant was privatised and sold to Swiss company named Villiger Group, which in turn in 2003 was bought by Trek Bicycle Corporation from USA. Elite Diamant is considered to be the eldest bicycle factory in Germany.
The bicycle is fitted with Fichtel & Sachs engine.