Crusader, a brand bicycle of Mead Cycle Company, fitted with Smith Motor Wheel. This one was well preserved, with many original accesories: saddle, mechanical horn, tool box and others. Original lacquer was mostly preserved, too (see photos), so the painting could be reliably reconstructed.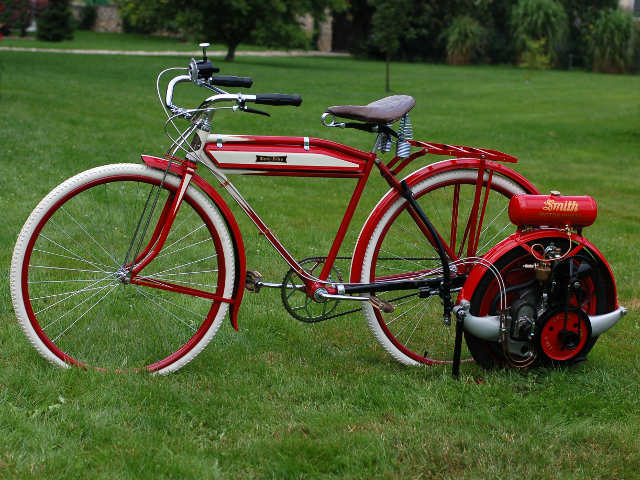 Some of the earliest motorcycles were made by fitting gasoline engines to modified bicycles. When motorcycles became successful, but expensive, fitting inexpensive engines to bicycles became popular. The Smith Motor Wheel was one of these. Motor wheel was designed in 1910; the eldest model was named Wall Auto Wheel. Soon it was bought by Smith company, and after making some changes the production started in 1914. It was single-cylinder, air-cooled engine, 1 hp. It was fitted alongside the rear wheel of any vehicle, started, lowered to the ground, and away you went. Price new - $60. Over 60,000 were sold in the U.S. before the patent was sold to Briggs & Stratton, which continued its production (Briggs & Stratton model had larger cylinder, in order to achieve 2 hp).
A.O. Smith company's predecessor in motorizing bicycles was Shaw; and just like Shaw, the Smith company developed and sold a small buckboard car to increase sales of its bicycle engine. The car was called Smith Flyer (to the left). It was propelled by the motor wheel. Later still, in May 1919, A.O. Smith sold the Motor Wheel rights to the Briggs & Stratton Corporation of Milwaukee, Wisconsin. Briggs & Stratton sold the buckboard car as the Briggs & Stratton Flyer. Briggs & Stratton produced the Motor Wheel and Flyers until 1925.
Mead Cycle Co of Chicago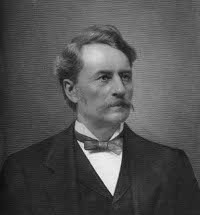 Mead Cycle Company was one of at least 68 bicycle manufacturers in Chicago at the turn of the century. It was started in 1895 in Wichita by James Lucas "Bunny" Mead, son of James R. Mead (photo to the left), a famous Kansas pioneer and one of founders of Wichita town. Later the company moved to Chicago. After James. L. Mead died in the age of 80, the company continued under direction of son, James E. Mead. The company was producing and selling bicycles in record numbers; in 1900 Mead Cycle Company had 8000 bicycles in stock. They were mail order company; they published direct mail catalogs and ads in various publications like Boys Life.
"As for Mead Cycle...it was one of the most famous bicycle companies in the world and had huge plants at one time in England and here in Chicago. They primarily were a mail order operation and sold bicycles worldwide. They had several lines of bicycles..." Leon Dixon, curator of the National Bicycle History Archive of America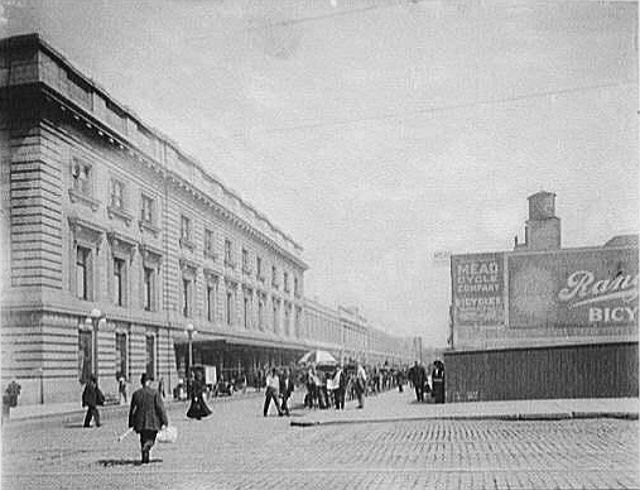 Above: Chicago, North Western Railroad, Madison Street Station. The sign on the buliding to the left: "Chicago Factory, Mead Cycle Company, Bicycles"
A.O.Smith Company
Although A. O. Smith was founded in 1904, the company traces its history back to the mid-19th century, when Charles Jeremiah (C. J.) Smith emigrated to the United States from England. The journeyman metal tradesman ventured all the way to Milwaukee, Wisconsin, and, after being self-employed for a decade, went to work for the Milwaukee Railroad Shop. As a highly skilled workman, he made a good living, but went back into business for himself in 1874, when he opened a machine shop and began manufacturing baby carriage parts. Two of Smith's four sons, Charles S. and George H., joined the family firm in the mid-1880s.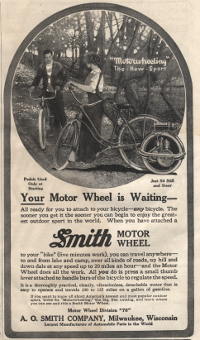 As bicycles became popular in the last decade of the century, C. J. Smith and Sons branched out. By 1895, it was the largest manufacturer of steel bicycle parts in the United States. The patriarch called in his eldest son, Arthur (A. O.), an architectural engineer specializing in large buildings, to help build a five-story factory for the growing family business. After two years of close work with his father, A. O. decided to join the company permanently as treasurer. By then, C. J. Smith and Sons had declared itself the largest manufacturer of component bicycle parts in the world. Increasing overcapacity in that industry and the advent of the automobile brought another change to C. J. Smith and Sons. In 1899 the family sold its business to the Federal Bicycle Corporation of America, a then-legal monopoly known as the "Bicycle Trust." A. O. retained management of the Milwaukee (or "Smith Parts") Branch of the Trust. Arthur Smith indulged his personal interest in the composition and manufacture of automobile frames with two years of "tinkering" that culminated in the sale of his first automotive frame to the Peerless Motor Car Co. in 1902.
Word of his frame, which was lighter, stronger, more flexible, and cheaper than conventional ones, spread quickly: by the following year, Smith had contracts with six major automobile manufacturers. A. O. Smith quit Federal in 1903, bought the Smith Parts Co. from his former employer, and incorporated it as A. O. Smith Company in 1904. The company's sales totaled $375,733 and profits topped $100,000 that first year. Unfortunately, patriarch C. J. Smith also passed away in 1904.
In April 1906, Henry Ford contracted with A. O. Smith for frames. At the time, the company was only producing ten pressed steel frames a day. Ford needed 10,000 frames in four months, a ten-fold increase in the prevailing production rate. Realizing that adding workers and space would only consume valuable time in training and construction, Smith looked for ways to increase efficiency through technological improvements. He and his team of engineers retooled existing presses to produce two corresponding halves of an auto frame simultaneously and arranged the presses to form a continuous assembly line. The delivery of 10,000 A. O. Smith frames that August helped Ford introduce his popularly priced Model N late in 1906 and attracted ever more automobile manufacturers to the supplier. Because A. O. Smith soon found itself turning away business, it soon built a new, larger headquarters on 135 acres on the outskirts of Milwaukee to accommodate demand. By the end of the decade, A. O. Smith was manufacturing 110,000 frames per year, over 60 percent of the auto industry's requirements.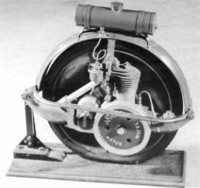 Three years later, when A. O. Smith died, his son Lloyd Raymond (Ray) was made president. Ray's was not just a dynastic leadership, however. Both A. O. and L. R. Smith were later inducted into the Automotive Hall of Fame and the Wisconsin Business Hall of Fame. The 23-year-old former company secretary had previously proposed manufacturing improvements that multiplied A. O. Smith's production rate seven times. Ray Smith also propelled the family company into new ventures. Smith bought a license to manufacture "The Motor Wheel," a small gas engine that could be attached to a bicycle's rear wheel to make a "motorbike."
The company sold 25,000 of the vehicles nationwide from 1914 to 1919, and even applied the technology to a small wooden "sports car" called the Smith Flyer, mentioned above. In May 1919, A.O. Smith sold the Motor Wheel rights to the Briggs & Stratton Corporation of Milwaukee, Wisconsin. Now A.O. Smith Corporation is a diversified manufacturer of automotive structural components, electric motors, residential and commercial water heaters, fiberglass piping systems, livestock feed storage systems, and storage tanks. (Thanks to http://www.fundinguniverse.com/company-histories)