Whizzer is popular American cycle engine, manufactured from 1939 to 1965. They were sold first only as engine kits, and later as whole vehicles as well. This Whizzer is mounted on Excelsior Schwinn bicycle frame.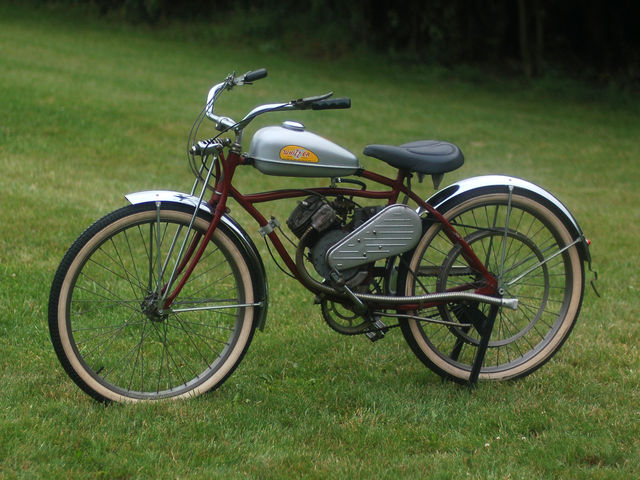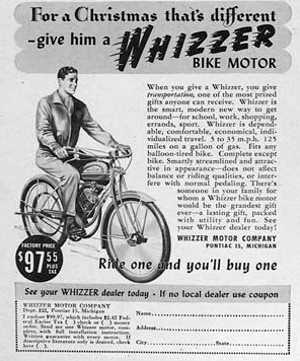 Whizzer history began in 1939. "Breene-Taylor Engineering, a Los Angeles-based manufacturer of airplane parts, announced the availability of the Whizzer Model D Bicycle Motor. This kit sold for $54.95 and included an air-cooled, four-cycle engine that was capable of producing 1.375 horsepower as well as a 2/3 gallon fuel tank. Approximately 1000 Model "D" motors were made and sold." (from http://www.whizzermotorbike.com) Next year Model E was marketed, with aluminium cylinder head for better cooling. About 1500 of them were made. Breene-Taylor wasn't quite satisfied with the sales level, and in 1942 the Whizzer Motor division was sold. Dietrich Kohlsattand and Martin Goldman became new owners. They managed to keep the production running during 2WW. In 1943 new model was released, available for defense workers only. It was the first one with a belt drive, which replaced friction roller.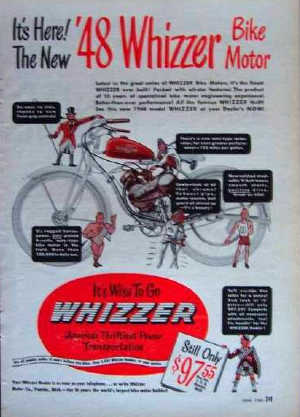 From 1945 these engines were sold to general public under "Model F" name. About 4200 of them were manufactured. In 1946 Whizzer moved the production from California to Pontiac, Michigan. In the same year new Model H was ready. It was designed by Henry Schuricht, a former Breene-Taylor engineer who had moved to Whizzer in 1941. Model H proved to be very reliable engine and by 1948 the Whizzer engine sales reached 150 000. In 1949 Whizzer marketed new Model J engine and its first complete motorbike as well, the "Pacemaker", fitted with Model J engine. A few months later another motorbike followed, based on Schwinn frame. A few more models were released until 1952. In 1955 Whizzer Motorbike Company was renamed to Whizzer Industries, Inc and started to change its profile. Motorbikes were discontinued, even though the bike and engine parts where sold until 1965. In 1997 the company was reconstructed and a year later they made attempt to return to motorbike market with a new model.